UNAIR NEWS – Badan Penyelenggaraan Jaminan Sosial (BPJS)/ Social Security Administration strives to actualize the welfare for Indonesian by providing National health assurance – Indonesia Health Card (JKN –KIS). The promotion conducted by holding an event called BPJS Goes to campus which took place at Universitas Airlangga, Thrusday (5/10)
In the occasion attended by Vice Rector I Universitas Airlangga Prof. Djoko Santoso., dr., Ph.D Sp.PD.K-GH.FINASIM, Director of student affairs Universitas Airlangga UNAIR Dr. Hadi Subhan, SH.,MH.,CN., Director of Financial and Inventories BPJS Kesehatan Kemal Imam Santoso., MBA, along with directors of board of BPJS Kesehatan.
"BPJS shows that state is with us to make welfare, for the next I hope BPJS can be better for Indonesian welfare towards healthy Indonesia," Prof. Djoko said during his speech
According to him, BPJS Goes to Campus was such a learning to make people know about health assurance. This way is an essential education program which has been mandated by UNESCO.
Living together, it's a good reference for living in community," He said
Kemal Imam Santoso during his speech encouraged students to more aware and invests for health by participating in JKN – KIS, this program also to actualize Universal Health Coverage in 2019.
"Today, we have prepared many canals for registration JKN – KIS, besides the nearby BPJS office, you can register yourself either in selected kecamatan office or registration booth. So you don't need to wait so long," Kemal said. He is an Alumni of Universitas Airlangga class of 1979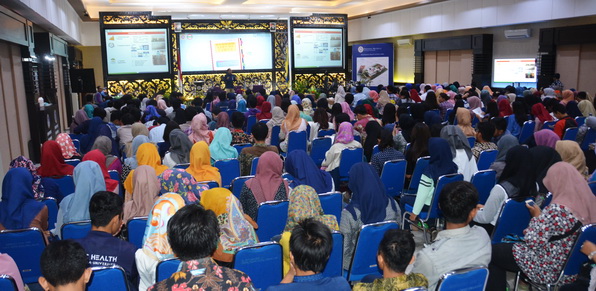 BPJS have established partnership with 50 universities in Indonesia to enroll their students in JKN –KIS "We will establish partnership with UNAIR, still on progress," He said
In the same occasion also attended by Brand Ambassador BPJS Kesehatan, Ade Rai. The bodybuilder Athlete came to embrace students to build their own healthy lifestyle by doing workout and eating high protein and fiber food.
"We need to make our time for workout not wait for leisure time," he said. (*)
Source : http://news.unair.ac.id/en/2017/10/05/bpjs-goes-campus-approaches-unair-student/