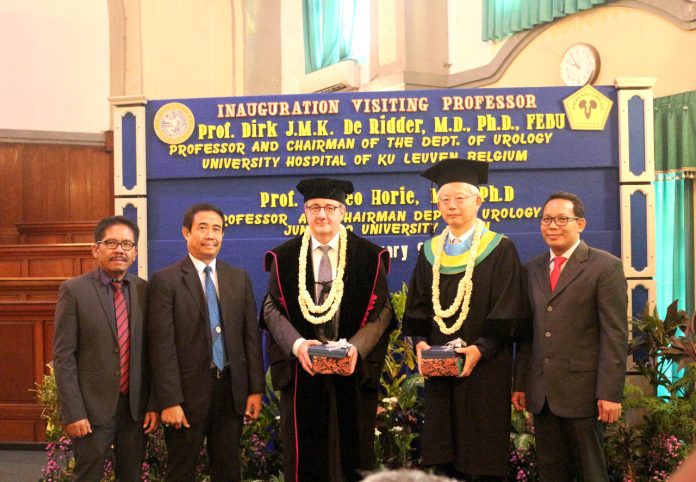 (From the left) Head of Urology Department Wajoe Djatisoesanto, MD., Ph.D., (Urol.); Dean of FK UNAIR Prof. Soetojo, MD, Ph.D (Urol); Prof. Dirk De Ridder; Prof. Shigeo Horie Q .; and Vice Rector IV UNAIR Junaidi Khotib, S.Si., M.Kes., Ph.D., Apt. after the oration in Visiting Professorship program 2017-2018 at FK Hall on Tuesday, January 9. (Photo: Feri Fenoria)
UNAIR NEWS – Internationalization continues to be encouraged by Universitas Airlangga. Through the Faculty of Medicine, UNAIR presents two professors from foreign universities. They are from Belgium and Japan.
Each keynote speaker conveyed the integration efforts of hospitals and universities to a sustainable academic medical center in their respective country. They were Director of Flemish Hospital network of Leuven Institute for health care policy Prof. Dirk De Ridder and Chairman and Professor of Urology Department Juntendo University Prof. Shigeo Horie Q.
Being the first speaker, Prof. Dirk De Ridder said that KU Leuven has experienced historical event for eight times in 1425, 1797, 1816, 1834, 1914, 1965, 1970, and 2013.
During that time, he continued, KU Leuven has produced some prominent scholars and scientists such as Pope Adrian VI (1450-1523), Desiderius Erasmus (1466-1538), Andreas Visallius (1514-1564), and Gerardus Mercator (1512-1594).
"In addition, we have some honoris causa doctors. There are five people, "he said in the Hall of FK UNAIR Tuesday afternoon, January 9.
Prof. Dirk De Ridder added, KU Leuven has three main missions, to excel in academic education, in research, and leading in providing services to the community.
"There are a total of 327 educational programs with 78 undergraduate programs, 205 master programs, and 44 advanced master's programs, " she said. "It has a distinctive educational and learning vision emphasizes on cultural quality, with flexibility, innovative learning environment, internationalization, and extensive educational facilities," explained the man born in St. Agatha Barchem, 30 July 1964.
Among world universities, KU Leuven earns excellent ratings. In Reuters Ranking, KU Leuven is ranked fifth under four US colleges, Stanford (first), Massachussets Institute of Technology (second), Harvard University (third), and University of Pennsylvania (fourth).
Similar to UNAIR, KU Leuven has a campus hospital. The total number of patients reached 108,476 people (outbound) and 57,438 (inbound). In addition, there are 702,721 consultation treatment, 2,231 births, 56,563 surgeries, 15,162,056 laboratory tests, 57,650 emergency unit treatments, and 312 transplants.
Meanwhile, Prof. Shigeo Horie Q. the second speaker said that Juntendo University was the first Japanese university to be accredited by Joint Commission International (JCI), an American non-profit organization that issues health facility certificates based on security assessments and world standards.
"We are also working with agencies in various countries such as in Indonesia with Universitas Airlangga, one of them, " he said.
On the other hand, Fikri Rizaldi, MD., from Urology Department FK UNAIR – Regional General Hospital (RSUD) Dr. Soetomo stated that, Juntendo has excellence in the field of medical technology, especially on handling the cases of prostate cancer.
"It is more advanced. The treatment uses a robot. Time and effectiveness is maintained. From conventional surgery with 10 to 12 hours, it can be completed in 1 to 2 hours. In addition, the screening is more sophisticated, "said the man who also had studied at Juntendo University.
At the end, the Dean of FK UNAIR Prof. Soetojo, MD, Ph.D (Urol), hoped that the presence of two professors can provide insight and inspiration of academic community to do field research, especially as an internationalization effort for UNAIR towards world class university.
"The target, we bring 20 overseas professors to UNAIR. Up to now, in FK, there are already Nine, "he said. "Efforts like this will continue to be encouraged. Not only to achieve the target, but also efforts to improve the quality of education and science at UNAIR, especially in FK, "he added. (*)
Source : http://news.unair.ac.id/en/2018/01/09/fk-unair-visiting-professors-gives-insight-medical-technology/