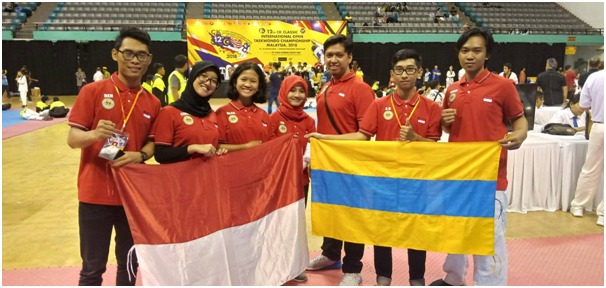 THREE students win one individual poomsae gold medal and two poomsae bronzes in Malaysia. (Photo: Special)
UNAIR NEWS – Three Universitas Airlangga students made achievements through Student Activity Unit (UKM) Taekwondo. In 12th CK Classic International Taekwondo Championship at Malawati Shah Alam Stadium, Selangor, Kuala Lumpur, Malaysia on August 23-26 was held by Grand Master CK Karan. The three students were Cyntia Amanda Putri (English literature 2016); Aura Dimar S. (Islamic Economics 2016); and Olga Mardianita A. (Islamic Economics 2015).
In the championship, the three students were able to win one individual poomsae gold medal and two poomsae bronzes . There are participants from other countries such as Hong Kong, Australia, South Korea, India and Iran.
Meanwhile, Cyntia Amanda Putri, gold medalist in the Poomsae category, female individual, stated that she was very happy to get gold. In fact, she never thought she would win it. She said that her victory could not be separated from the role of coach.
"Surely happy (for winning, ed) never think that I can win 1st place. But, I'm sure this is all the result of my training and prayers," she said.
Preparation was carried out for three months. In the preparation, the athletes did not deny the existence of obstacles such as lack of facilities, weather that was not supportive at night, and a relatively short training time.
"Thank you very much especially those who have trained us patiently and always motivate us to be able to do this match well. In addition, thank you for the other trainers and friends of Taekwondo UNAIR UKM who have also supported us, "said Dimar, the other delegate.
In 2018, Taekwondo UKM UNAIR has sent several athletes to take part in the championship in the hope of gaining good reputation for the alma mater. The next championship to be followed is the Indonesian Professional Taekwondo National Professional Championship (UTI PRO) on Thursday – Saturday (September 6–8) in Bali. (*)
Source : http://news.unair.ac.id/en/2018/09/06/three-students-win-medals-international-championships-malayasia/