UNAIR NEWS – As reported by the Tobacco Atlas, Indonesia is one of the countries with the highest number of cigarette consumption in the world with 173 billion cigarettes in 2006 and increased significantly to 316 billion cigarettes in 2018. With this fantastic number, exposure to cigarette smoke has threatened 75 percent of Indonesia's population as passive smokers.
A lecturer of Faculty of Public Health (FKM) UNAIR, Dr. Siti Rahayu Nadhiroh, S.KM., M.Kes, revealed that smoking is known to be the main risk factor for the four most non-communicable diseases, from blood vessels, diabetes, cancer, chronic obstructive pulmonary disease, to heart disease.
Nadhiroh added that smoking is also capable of causing cognitive processing disorders in the forebrain, or in medical language is called the prefrontal cortex.
"The longer the smoking habit, the greater the decline in the function of the prefrontal cortex. This is progressive and brought to adulthood," she said, Tuesday, February 22, 2021, during ICCD 2021 event initiated by FKM Tobacco Control Group Research with the Tobacco Control Support Center (TCSC) IAKMI.
She also said that cigarette smoke is a threat to the development of toddlers. According to Nadhiroh, the presence of cadmium in cigarette smoke can disrupt the balance of cadmium-zinc and cadmium-calcium in the body. Thus resulting in inhibition of bone formation and slowing the growth of body length.
"Exposure to cigarette smoke, both during pregnancy and during child development, is associated with the risk of stunting, especially in countries with lower middle income, " she explained.
So, why is cigarette smoke harmful to health? Dra. Arie Soeripan, MM from the East Java Women Without Tobacco (WITT) explained that the smoke inhaled by passive smokers also contains than 4,000 chemical compounds.
She continued, 250 types of them are known to be very poisonous. Moreover, more than 50 of these types can trigger cancer.
"Furthermore, exposure to cigarette smoke does not go through a filter. So that it causes health problems for those who are exposed, " she said.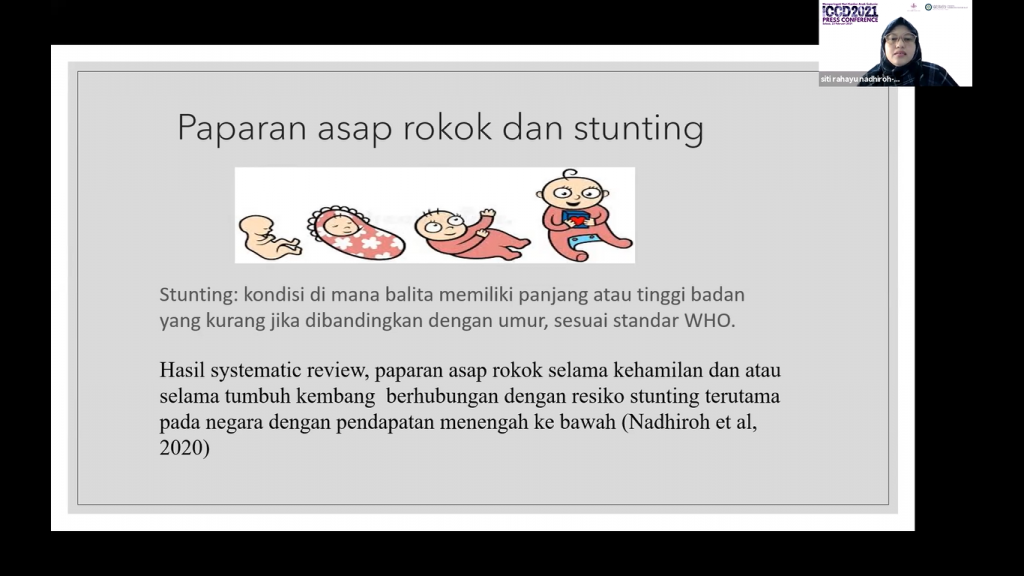 Meanwhile, the World Health Organization (WHO) estimates that at least 8 million deaths are caused by cigarette smoke. 1.2 million cases were from passive smoking.
According to Arie Soeripan, there are some ways you can do to avoid exposure to cigarette smoke, such as by not being around people who smoke and using masks.
In addition, consuming plain water is also recommended to clear the throat and respiratory tract from cigarette smoke. And by changing clothes exposed to cigarette smoke.
As additional information, the discussion about exposure to cigarette smoke was held by FKM UNAIR together with TCSC IAKMI. It was held in commemoration of World Child Cancer Day which falls on Monday, February, 15, 2021. (*)
Source: http://news.unair.ac.id/en/2021/02/25/know-the-risks-of-cigarette-smoke-exposure-to-watch-out-for/